Startup Thailand 2018
ระหว่างวันที่ 17 - 20 พฤษภาคม 2561 ณ ศูนย์ประชุมแห่งชาติสิริกิติ์
Register
Ticket Type
Register to Startup Thailand 2018 (Visitor)
Free
Investor Registration
Free
Application for startup (booth setup)


Volunteer Registration


** ดู Agenda ทั้งหมดได้ที่นี่ **
Startup Thailand 2018 จะเป็นครั้งแรกที่รวมเอาสตาร์ทอัพกว่า 400 รายมาอยู่ในงานเดียวกัน เพื่อให้ทุกคนได้พบปะแลกเปลี่ยนประสบการณ์ ฟังบทเรียนจากผู้ประกอบการที่ประสบความสำเร็จในระดับนานาชาติ รวมถึงยังได้นำเสนอแนวคิดต่อกลุ่มนักลงทุนที่มีวิสัยทัศน์มองเห็นโอกาสใหม่ๆ และพร้อมให้การสนับสนุนทางการเงินอีกด้วย นอกจากนั้นยังมีกิจกรรมต่างๆอีกมากมายได้แก่ เวทีหลักจะมีปาฐกถาพิเศษจากรองนายกรัฐมนตรี ปาฐกถาของวิทยากรระดับนานาชาติ เปิดมุมมองที่กว้างขวางขึ้นเกี่ยวกับสตาร์ทอัพ ผ่านประสบการณ์ของผู้เชี่ยวชาญ เพื่อเตรียมความพร้อมให้สตาร์ทอัพไทยขยับขยายไปสู่เวทีสากลได้ในเร็ววัน ภายในงานมีการจัดเสวนาทั้งเพื่อสตาร์ทอัพโดยตรงและบุคคลทั่วไปที่สนใจ รวมเอาทุกหน่วยงานของรัฐที่เกี่ยวข้องกับการพัฒนาสตาร์ทอัพมาไว้ในที่เดียวกัน การให้คำปรึกษาโดยพี่เลี้ยงมากประสบการณ์แบบตัวต่อตัว (Mentoring Session) กิจกรรมสร้างเครือข่ายสำหรับสตาร์ทอัพ (Networking Session) เวทีการแข่งขันพิชชิ่ง (Pitching) ในปีนี้ยิ่งทวีความเข้มข้นขึ้นไปอีกขั้นด้วยการจับเอาสุดยอดของแต่ละภูมิภาคในประเทศไทยมาแข่งขันนำเสนอไอเดียกันในวันสุดท้าย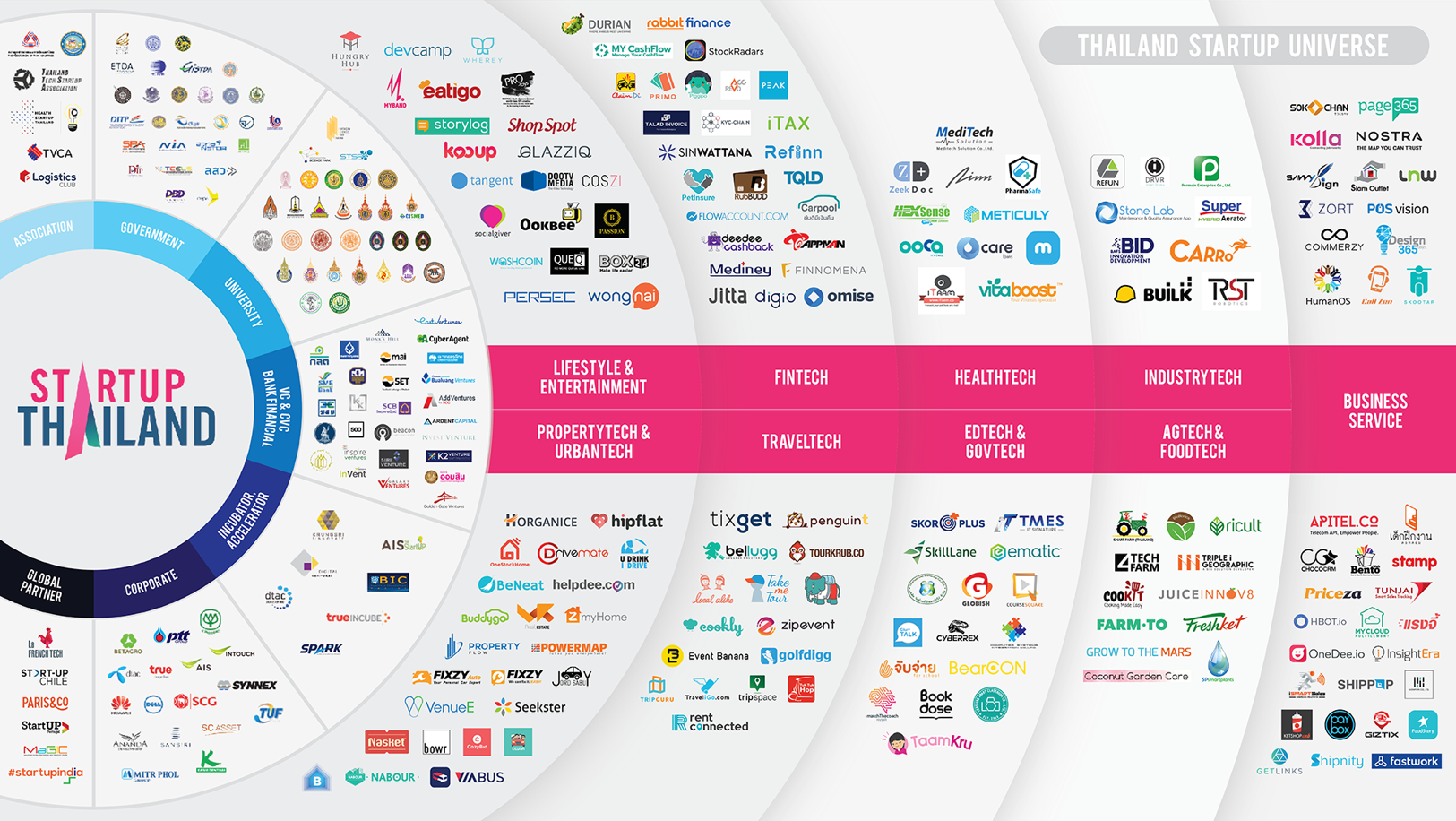 After a success of Startup Thailand 2017, the government of Thailand by National Startup Committee (NSC) and Ministry of Science and Technology (MOST) with an aim to establish the Kingdom in transforming into an "Enterprising Nation" through this well-crafted Global open innovation platform in order to achieve a major economic driving role of Asia.
With a rapid growth of Thailand's Startup business scene, there are now over 1,500 startups in various sectors. Many Corporate Venture Capital Funds have continuously launched with an estimated size of an investment up to USD 1 billion for the past 12 months.
Thailand's Startup Ecosystem allows promising startups to scale globally by utilizing its network as the gateway to launch new innovative products and services. With an endless business and investment opportunities in the Kingdom, Startup Thailand has now linked with more than 25 startup communities all around the world.
Ministry of Science and Technology (MOST) recognizes the importance of driving and developing Thailand Startups as well as Thailand's Startup Ecosystem. Full support from both the government and private sector have continuously been given to a plethora of Thailand's talented startup businesses needing support, nurturing and as well as financial investments to take them to the next level.
We look forward to welcoming you to Startup Thailand 2018
See you in Bangkok
18 STAGES
What are 18 Stages?
Curated discussions featuring global thought leaders,
practitioners, innovators, young minds and change maker
that will inspire future pioneers in 18 rapidly growing industries
Who Takes Lead?
Multinational corporations, international organizations,
governments, high-growth companies and civil societies
How is it Organized?
A one-day tech, future, art, lifestyle
and the next big thing conference
as part of Startup Thailand 2018
Where will it Happen?
250 seats of 4 stages amidst the hall of international startups
and tech pavilion at Queen Sirikit National Conferences Center
(QSNCC)
When will it be Held?
17th - 20th May 2018